Wow it's been like ages since the last time I posted something on this blog. It's not that I didn't want to, but just.. I didn't know what to talk about. 
Anyways, now I'm freaking addicted to the Disney's Beauty and the Beast, which I'm sure you know very well of.
Beauty and the Beast is a 1991 Disney's animation, originally from France and that's why they named the major character as Belle, which means beauty in French.
Belle was told to be the most beautiful woman in her town and also the funniest one, as her hobby was reading books without caring what people said. Maurice, the 'loony' inventor, took a wrong turn to go to an invention championship and was trapped in Beast's castle, causing the two to meet. Belle found her father being a prisoner in Beast's castle and asked Beast if she could replace her father in being Beast's prisoner.
The Beast is actually an enchanted prince named Adam, who was cursed to be a beast by an enchantress, who was disguised herself as an old woman beggar, because of his selfishness and ignorance. The only way to break the spell is to learn how to love and earn her love in return, before the last petal of his enchanted rose fell, which would bloom until his twenty-first birthday. 
In his castle, Beast was not alone. There were Lumiere, Cogsworth, Mrs Potts, Fifi and Chip.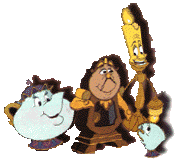 I really recommend it to you all, as it is a long-lasting movie of Disney.
Enjoy!